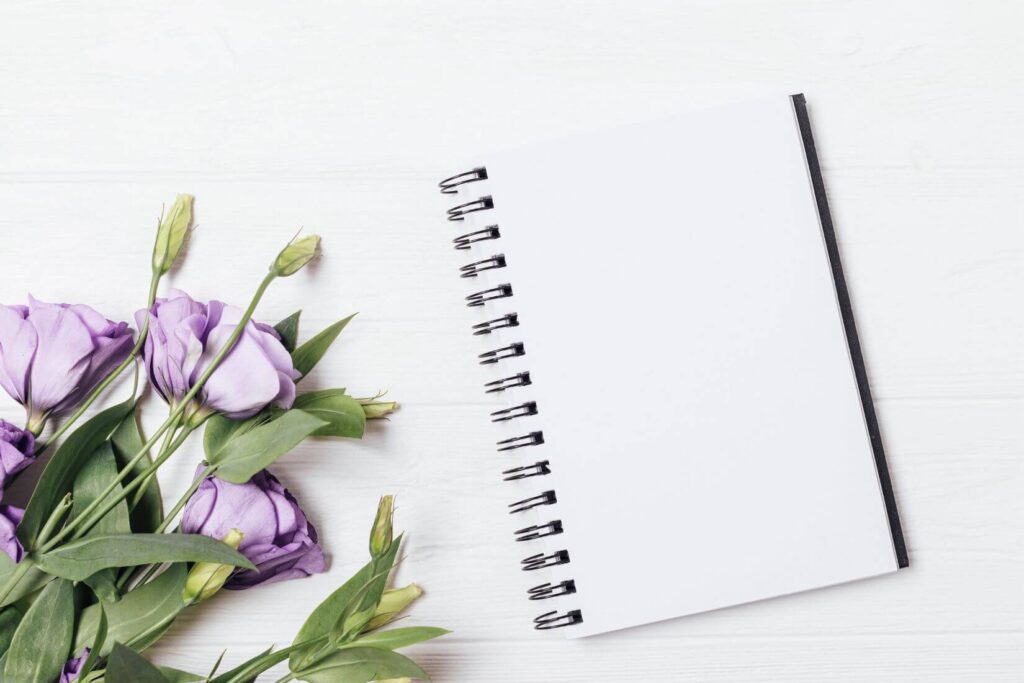 Have you ever felt like your heart is heavy or closed off? That's your heart chakra asking for a little extra love. Think of heart chakra affirmations as warm, gentle words that can help your heart feel light and open again. Just like a cozy chat with a good friend can lift your spirits, these affirmations are like friendly whispers to your heart, telling it to breathe, relax, and let the love in.
---
What is the Heart Chakra?
The heart chakra, or "Anahata" in Sanskrit, is like a gentle, loving energy nestled in the center of your chest. Imagine it as a soft, glowing green wheel of light, spinning with the rhythm of your heartbeat, right where you feel all those warm hugs and deep breaths. This chakra is your emotional center, the home of love, kindness, and compassion. It's where you connect with others and where you embrace the love that comes your way.
Its Role and Significance
Emotional Balance and Love: The heart chakra is essential for maintaining emotional balance and the ability to give and receive love. When it's in harmony, you feel loving and loved, compassionate and joyful.
Relationships and Connection: This chakra is all about forming deep bonds with others. A healthy heart chakra helps you to create and maintain meaningful relationships, understanding others with empathy and openness.
Healing and Forgiveness: The heart chakra plays a crucial role in healing emotional wounds. It allows you to let go of past hurts through forgiveness and to move forward with a sense of peace and acceptance.
Symbolism and Associations
Color: The heart chakra is often represented by the color green, which stands for growth, renewal, and the vibrancy of life.
Element: It's associated with the air element, signifying freedom, expansion, and the breath of life.
Sense: The sense of touch is linked to this chakra, highlighting the importance of physical and emotional connection.
---
Signs of an Imbalanced Heart Chakra
When your heart chakra is out of balance, it can affect you deeply, from your physical health to your emotional well-being and how you interact with the world. Recognizing these signs is the first step toward healing and opening your heart chakra. Let's explore some common signs that your heart chakra might be struggling to maintain its balance.
Physical
Emotional and Mental
Behavioral
Chest Pain
Heart Palpitations
Respiratory Issues
High or Low Blood Pressure
Grief or Depression
Fear of Rejection
Jealousy or Holding Grudges
Lack of Empathy
Withdrawal from Social Interaction
Over-pleasing Others
Fear of Intimacy
Reluctance to Forgive
45 Heart Chakra Healing Affirmations
I deeply and completely love and accept myself.
I am open to love and kindness.
I am loving to myself and others.
There is an infinite supply of love.
I live in balance with others.
My heart is free from all the wounds of the past.
I naturally attract love everywhere I go.
I release and let go of all resentment.
My heart space radiates powerful green light.
Love is the essence of my being.
I am grateful for all my relationships.
I choose to see myself and others in a compassionate light.
I forgive myself and others for past mistakes.
My heart chakra is open to its perfect, healthy state.
The more love I give, the more I receive.
I am connected with other human beings.
I am kind, compassionate, and gentle.
I choose love over fear.
I am loved more than I ever thought possible.
I am worthy of love.
I nurture my inner child.
I am a beacon of love and compassion.
I love myself unconditionally.
I allow myself to be vulnerable and strong.
I am in harmony with the universe.
I forgive myself for my imperfections.
Love flows to and from me effortlessly.
I am connected with the rhythm of life.
I choose to be kind to myself and others.
My heart is open to receiving love.
I spread love to everyone around me.
I trust in the goodness of others.
My heart is healed from all the pain and sorrow.
I am at peace with my past.
Every situation is an opportunity for growth and love.
I am grateful for the abundance of love in my life.
I am the embodiment of pure love.
I radiate love in all my interactions.
I am aligned with the highest frequency of love.
My heart's capacity to love expands every day.
I am compassionate with myself and others.
I feel my heart chakra glowing with love.
I am open to love in all its forms.
I send love to every organ, bone, and fiber of my being.
My heart is strong and healthy.
---
Pin these heart chakra affirmations!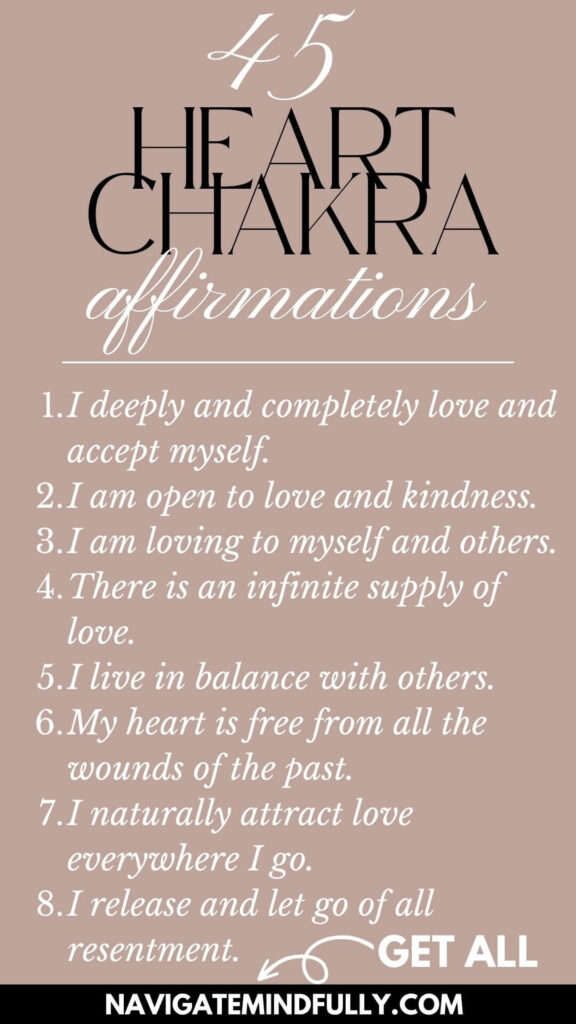 ---
How to Use Heart Chakra Affirmations
Using heart chakra affirmations can be a powerful technique to enhance your emotional well-being and to foster feelings of love, compassion, and joy. Here's a guide on how to use these affirmations effectively:
Set a Peaceful Environment: Find a quiet and comfortable space where you won't be disturbed. You might want to create a serene atmosphere by lighting candles, playing soft music, or sitting in nature.
Practice Mindful Breathing: Begin with deep, slow breaths to center your focus and calm your mind. Inhale positivity and exhale any tension or negativity.
Focus on Your Heart Chakra: Place your hand over your heart to connect with your heart chakra. Visualize a bright green light emanating from the center of your chest, growing with each breath.
Speak Your Affirmations Aloud: Recite your chosen affirmations out loud with conviction. Speak clearly and slowly, allowing yourself to truly hear and feel the words.
Feel the Affirmations: As you say each affirmation, focus on the feeling it evokes. Imagine love and compassion filling your being, healing any emotional wounds.
TRY THESE: 50 HEART CHAKRA JOURNAL PROMPTS
MORE CHAKRA HEALING AFFIRMATIONS:
40 ROOT CHAKRA AFFIRMATIONS FOR STABILITY AND GROUNDING
45 SACRAL CHAKRA AFFIRMATIONS FOR CREATIVITY AND PASSION
50 SOLAR PLEXUS CHAKRA AFFIRMATIONS FOR CONFIDENCE AND INNER STRENGTH
50 THROAT CHAKRA AFFIRMATIONS FOR SPEAKING YOUR TRUTH
50 THIRD EYE CHAKRA AFFIRMATIONS FOR STRONG INTUITION