Have you ever felt powerful energy radiating from the pit of your stomach? That's your solar plexus chakra talking to you. This chakra is like a little sun glowing right in the center of our being, and it plays a huge role in our confidence and sense of self. But sometimes, life's challenges can dim its shine. That's where affirmations come in. Think of them as little pep talks we give ourselves to reignite that inner fire. By the end of this post, you'll have a deeper understanding of the solar plexus chakra and a toolkit of affirmations to keep it glowing brightly. Let's dive in!
---
What is the Solar Plexus Chakra?
The solar plexus chakra, referred to as "Manipura" in Sanskrit, stands as the third among our seven primary chakras. Picture it as a radiant, spinning wheel of golden-yellow energy situated around your diaphragm, just above your navel. This chakra serves as the hub of our personal power, self-esteem, and individual will, much like a blazing sun that illuminates and empowers everything in its path.
Its Role and Significance
Personal Power and Confidence: The solar plexus chakra is pivotal for cultivating our sense of self-worth and confidence. When harmonized, we feel empowered, self-assured, and ready to take on challenges.
Decision-Making and Willpower: This chakra fuels our determination and guides our decision-making processes. A balanced solar plexus chakra means we trust our gut feelings and make choices with conviction.
Motivation and Drive: The solar plexus chakra propels our ambitions and motivates us to achieve our goals. It's the driving force behind our aspirations and endeavors.
Symbolism and Associations
Color: The solar plexus chakra is often symbolized by the color golden-yellow, signifying brightness, power, and transformative energy.
Element: It's associated with the fire element, representing transformation, energy, and drive.
Sense: The sense of sight is linked to this chakra, emphasizing our ability to perceive and envision our path forward.
---
Signs of an Imbalanced Solar Plexus Chakra
An imbalanced solar plexus chakra can present itself in numerous forms, spanning the physical, emotional, and behavioral realms. Identifying these signs is crucial for the journey of recalibrating this essential energy center. Here are some prevalent indicators of a solar plexus chakra that's not in equilibrium.
Physical
Emotional and Mental
Behavioral
Stomach Ulcers
Digestive Problems
Liver Issues
Gallbladder Disorders
Low Self-Esteem
Feelings of Powerlessness
Anxiety and Insecurities
Difficulty Making Decisions
Procrastination
Avoiding Responsibility
Dominating Others
Need for Constant Validation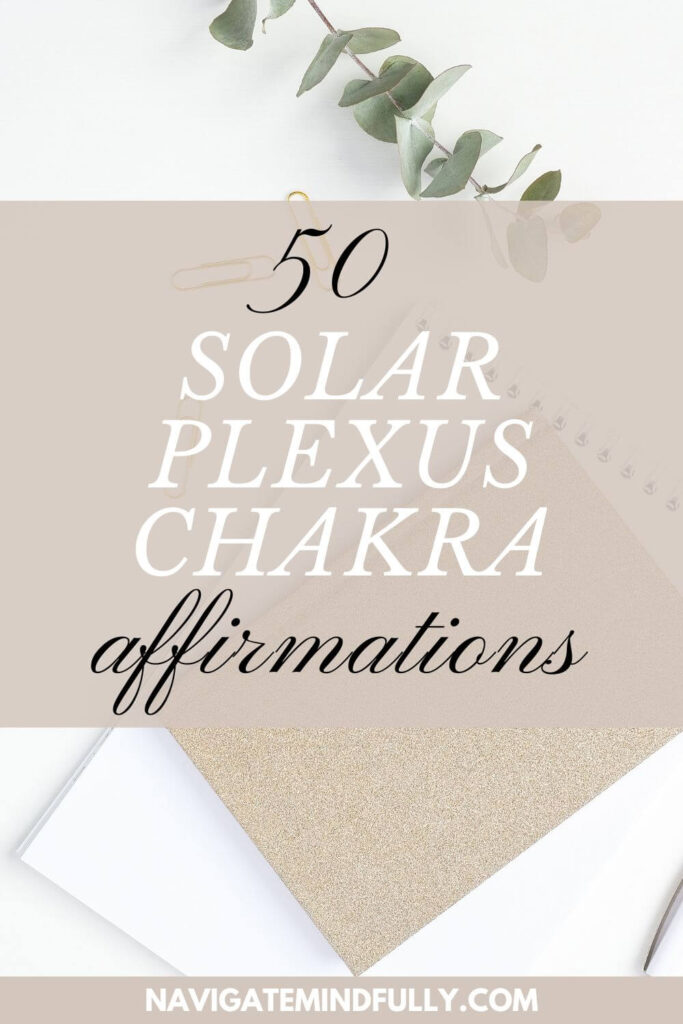 50 Powerful Solar Plexus Chakra Affirmations
I am powerful and confident in all that I do.
My willpower is strong and unwavering.
I trust my intuition and inner guidance.
I am worthy of success and abundance.
I am in control of my actions and emotions.
My inner fire burns brightly, guiding my path.
I am deserving of love, respect, and kindness.
I am the architect of my life and my destiny.
I release all doubts and fears, embracing my true potential.
I am motivated, driven, and full of purpose.
I stand tall, radiating strength and courage.
I am assertive and express myself with clarity.
I am in harmony with my personal power.
I am resilient and can overcome any challenge.
I am centered and balanced in my thoughts and actions.
I am proactive and take initiative in my life.
I am surrounded by an aura of confidence and strength.
I believe in myself and my abilities.
I am focused on my goals and manifest my desires.
I am constantly growing and evolving into a better version of myself.
I am fearless in the pursuit of my dreams.
I am in tune with my inner wisdom.
I am a beacon of light and positivity.
I am deserving of all the good that comes my way.
I am a force to be reckoned with.
I am grounded in my personal power and strength.
I am a magnet for success and prosperity.
I am in control of my destiny and create my own luck.
I am vibrant, energetic, and full of life.
I am a leader and inspire others with my actions.
I am at peace with my past and excited for my future.
I am surrounded by opportunities and seize them with confidence.
I am a warrior of light, always moving forward.
I am in perfect alignment with my life's purpose.
I am a creator, manifesting my dreams into reality.
I am empowered by challenges and grow stronger from them.
I am a beacon of self-assurance and determination.
I am connected to the universe and its infinite power.
I am unstoppable in the pursuit of my passions.
I am a radiant sun, shining my light on the world.
I am in harmony with the energy of success and achievement.
I am a master of my emotions and reactions.
I am a pillar of strength and stability.
I am in control of my life and my choices.
I am a force of positivity and inspiration.
I am worthy of all the happiness and success that comes my way.
I am a champion of my own story.
I am constantly empowered by my own achievements.
I am a symbol of perseverance and determination.
I am the master of my fate and the captain of my soul.
---
Pin these solar plexus chakra affirmations for later!
---
How to Use Solar Plexus Chakra Affirmations
Harnessing the power of the solar plexus chakra affirmations can be a transformative experience. However, to truly tap into their potential, it's essential to approach them with intention and mindfulness. Here's a guide on how to effectively use these affirmations:
Consistency is Key: Make it a daily ritual. Whether it's morning or night, find a quiet moment to recite your chosen affirmations.
Speak with Conviction: Believe in the words you're saying. Say them out loud and with confidence.
Stay Present: Focus on the present moment when reciting affirmations. Avoid distractions and ensure your mind isn't wandering.
Personalize Your Affirmations: While there are general affirmations, feel free to tweak them to resonate more with your personal journey.
TRY THESE: SOLAR PLEXUS CHAKRA JOURNAL PROMPTS
MORE CHAKRA HEALING AFFIRMATIONS:
40 ROOT CHAKRA AFFIRMATIONS FOR STABILITY AND GROUNDING
45 SACRAL CHAKRA AFFIRMATIONS FOR CREATIVITY AND PASSION
45 HEART CHAKRA AFFIRMATIONS FOR UNCONDITIONAL LOVE
50 THROAT CHAKRA AFFIRMATIONS FOR SPEAKING YOUR TRUTH
50 THIRD EYE CHAKRA AFFIRMATIONS FOR STRONG INTUITION