We've all heard the phrase "Love yourself." Guess how often we do that? Sometimes it's easier to tell others to love themselves than it is to love ourselves. But for you, I want you to close your eyes and say this out loud or in your mind. Repeat it every day. "I love myself." You might feel weird at first but keep saying it! And, self-love quotes will be very helpful here!
When we affirm ourselves with positive words, we believe that these words have an influence and power on us. And having a positive self-image can really change everything in life from a work perspective or even our personal relationships.
---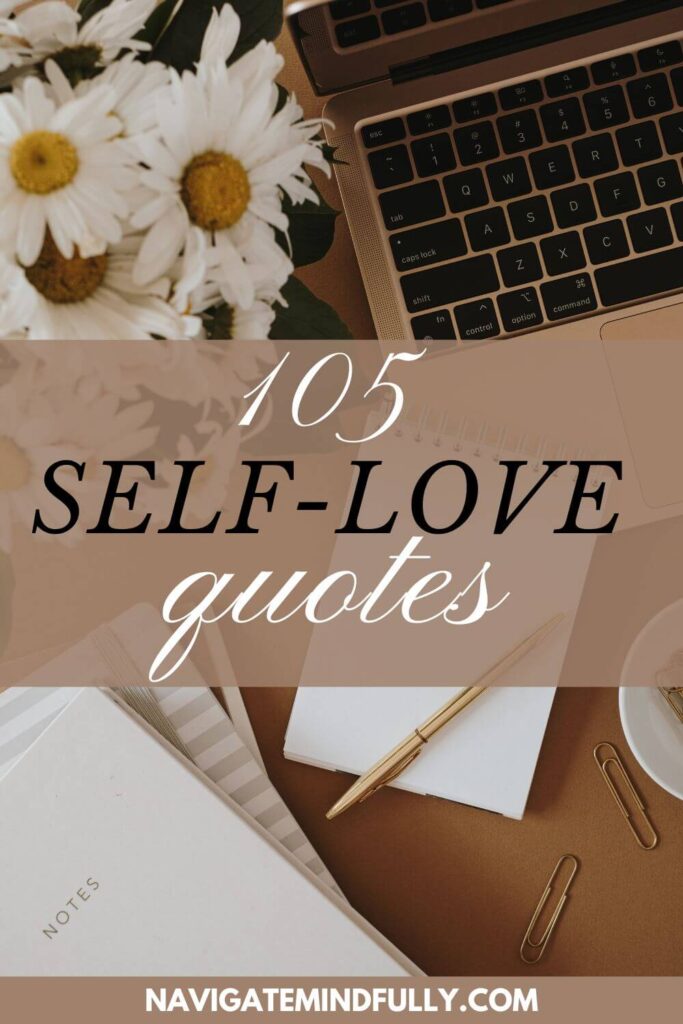 105 Self-Love Quotes to Feel More Confident
In a world that constantly pushes us to be more, do more, and achieve more, it's essential to pause and recognize the inherent worth within ourselves. Self-love isn't just a buzzword; it's a fundamental pillar of well-being and mental health. Below, you'll find a collection of self-love quotes that serve as gentle reminders to cherish and honor the unique individual that you are. Let these words inspire you, uplift you and guide you towards a deeper appreciation of yourself.
---
Positive Self-Love Quotes
"To love oneself is the beginning of a lifelong romance." – Oscar Wilde
"You yourself, as much as anybody in the entire universe, deserve your love and affection." – Buddha
"The most powerful relationship you will ever have is the relationship with yourself." – Steve Maraboli
"Owning our story and loving ourselves through that process is the bravest thing that we will ever do." – Brené Brown
"You are very powerful, provided you know how powerful you are." – Yogi Bhajan
"The real difficulty is to overcome how you think about yourself." – Maya Angelou
"To be beautiful means to be yourself. You don't need to be accepted by others. You need to accept yourself." – Thich Nhat Hanh
"Love yourself first and everything else falls into line. You really have to love yourself to get anything done in this world." – Lucille Ball
"Your relationship with yourself sets the tone for every other relationship you have." – Robert Holden
"You are not a drop in the ocean. You are the entire ocean in a drop." – Rumi
"Loving yourself isn't vanity. It's sanity." – Katrina Mayer
"The most terrifying thing is to accept oneself completely." – Carl Jung
"You were born to be real, not to be perfect." – Unknown
"Self-love is an ocean and your heart is a vessel. Make it full, and any excess will spill over into the lives of the people you hold dear." – Mette Holm
"Why should we worry about what others think of us, do we have more confidence in their opinions than we do our own?" – Brigham Young
"Love yourself enough to set boundaries. Your time and energy are precious." – Anna Taylor
"Self-respect, self-worth, and self-love, all start with self. Stop looking outside of yourself for your value." – Rob Liano
"To fall in love with yourself is the first secret to happiness." – Robert Morley
"The journey isn't about becoming a different person, but loving who you are right now." – Suzanne Heyn
"You are free, you are powerful, you are good, you are love, you have value, you have a purpose. All is well." – Abraham Hicks
---
Inspirational Self-Love Quotes
"Embrace the journey of self-love; it's the most rewarding adventure you'll ever embark on." – Lila Montgomery
"Your worth isn't determined by others; it's carved from the love you give to yourself." – Nathanial Grey
"In a world full of comparisons, be your own benchmark of beauty and strength." – Isabelle Hart
"The love you seek from the world begins with the love you grant yourself." – Owen Fields
"When you nurture your soul with self-love, you bloom in the most unexpected ways." – Clara Benson
"Self-love is the silent song your heart sings when you embrace every part of yourself." – Rafael Turner
"The most empowering relationship you can have is the one with yourself." – Mia Wallace
"Your imperfections are the brushstrokes in the masterpiece that is you." – Leo Fitzgerald
"To love oneself is the beginning of a lifelong romance." – Elise Donovan
"When you fuel your journey with self-love, every destination becomes reachable." – Samuel Brooks
"The more you embrace yourself, the less you'll seek validation from others." – Zoe Mitchell
"Self-love isn't selfish; it's the foundation on which all other loves are built." – Adam Pierce
"Your value doesn't decrease based on someone's inability to see your worth. Believe in yourself." – Grace Langley
"In the symphony of life, let self-love be your guiding melody." – Tristan Harper
"Your soul's light outshines any shadow." – Leila Foster
"In the symphony of life, be your own leading note." – Nolan Wright
"Every heartbeat is a reminder of your intrinsic worth." – Isla Turner
"Dive deep into self-love; there's a universe within waiting to be explored." – Jasper Reid
"The love you give to the world begins with the love you give to yourself." – Seraphina Hayes
"Embracing oneself is the first step to limitless potential." – Kai Emerson
---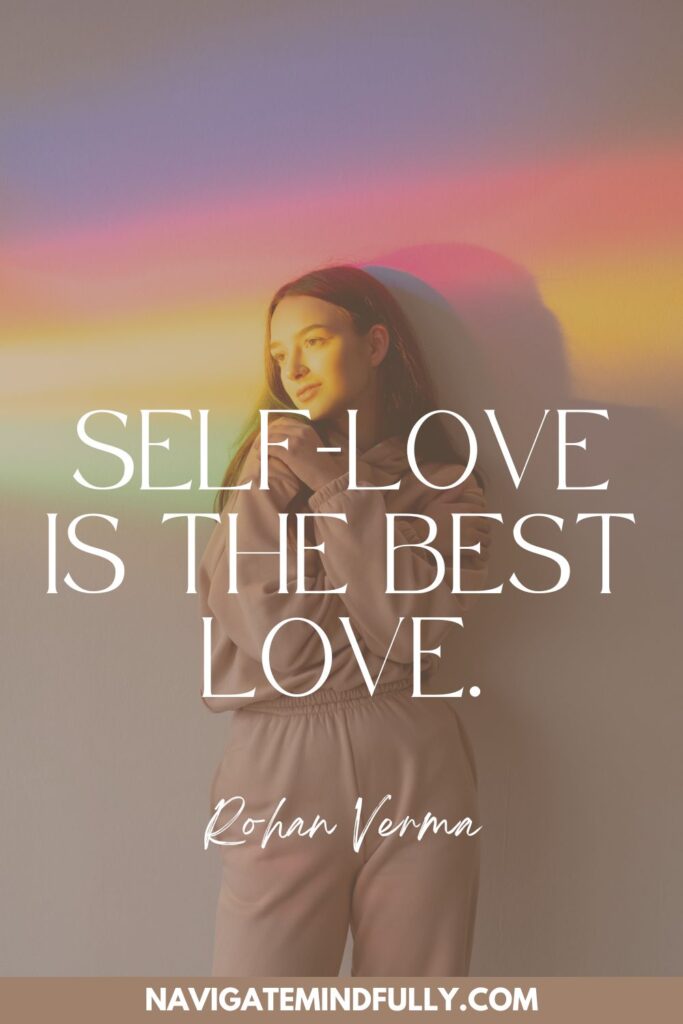 Short Self-Love Quotes
"Embrace your own rhythm." – Lena Carter
"You are your best project." – Milo James
"Shine from within." – Ivy Bennett
"Love starts within you." – Rajan Patel
"Be your own anchor." – Clara Fields
"Celebrate every version of you." – Theo Dawson
"You are enough, always." – Mia Wallace
"Bloom in your own time." – Elise Donovan
"Your worth is non-negotiable." – Samuel Brooks
"Cherish your inner universe." – Zoe Mitchell
"Self-love is revolutionary." – Adam Pierce
"You're a masterpiece in progress." – Grace Langley
"Own your story and love it." – Tristan Harper
"Your journey, your pace." – Anaya Patel
"Radiate self-love." – Ravi Desai
"You are your own magic." – Lila Krishnan
"Embrace your unique glow." – Priya Singh
"Love yourself, unapologetically." – Dev Arora
"Your heart knows your worth." – Meera Kapoor
"Self-love is the best love." – Rohan Verma
---
Self Love Maya Angelou Quotes
"I don't trust anyone who doesn't laugh."
"My mission in life is not merely to survive, but to thrive; and to do so with some passion, some compassion, some humor, and some style."
"You alone are enough. You have nothing to prove to anybody."
"I respect myself and insist upon it from everybody. And because I do it, I then respect everybody, too."
"We delight in the beauty of the butterfly, but rarely admit the changes it has gone through to achieve that beauty."
"I work really hard to just focus on the joy of the work that I get to do and the impact it has on the world. That's really what it is for me."
"Success is liking yourself, liking what you do, and liking how you do it."
"I am grateful to be a woman. I must have done something great in another life."
"I can be changed by what happens to me. But I refuse to be reduced by it."
"Each time a woman stands up for herself, without knowing it possibly, without claiming it, she stands up for all women."
---
Self-Love Yoga Quotes
"In each pose, find the balance between effort and ease, just as in self-love." – Anaya Patel
"Yoga is the journey of the self, through the self, to the self. Embrace every step with love." – Ravi Desai
"Let your breath guide you to deeper self-love, just as it guides you through each asana." – Lila Krishnan
"On the mat, we learn to embrace our imperfections and find love within." – Priya Singh
"Yoga teaches us to be present, to love ourselves here and now, without judgment." – Dev Arora
"Each time you step onto your mat, you're choosing a path of self-love and inner peace." – Meera Kapoor
"In the stillness of meditation, we discover the purest form of self-love." – Rohan Verma
"Yoga isn't about perfecting the pose; it's about loving yourself in the process." – Aisha Gupta
"Through yoga, we peel back the layers, revealing the love and light within." – Nikhil Joshi
"Let your heart chakra open wide, embracing the boundless love you hold inside." – Tara Malhotra
"The true essence of yoga is self-acceptance, self-love, and inner harmony." – Kavi Shah
"As you flow from one pose to another, let love flow through you, nourishing your soul." – Anika Bhatia
---
Funny Self Love Quotes
"I'm not a snack, I'm the whole darn meal!"
"Some call it arrogance, I call it self-assurance with a sprinkle of charm."
"If I had a dollar for every time I appreciated myself, I'd be a self-made millionaire."
"I'm not everyone's cup of tea, but I drink coffee anyway."
"Some say I'm too much; I say I'm just the right amount of extra."
"Why be a copy when I'm already a limited edition masterpiece?"
"If confidence was a crime, I'd be serving a life sentence with style!"
"I'm not perfect, but I'm limited edition. And that's kind of the same thing!"
"I don't have an attitude; I've just mastered the art of self-appreciation."
"Why fit in when I was born to stand out… and do a little dance?"
"I'm my own kind of beautiful, which means 'fabulously unique' in case you were wondering."
"Every day, I give myself a high-five for just being me. It's a tough job, but someone's got to do it!"
---
Self Love Quotes for Instagram
"Embracing all of me, one selfie at a time. 📸✨"
"Self-love is the filter I wear every day. 💖"
"Flaws? More like unique beauty marks. 🌟"
"Falling in love with myself, one post at a time. 💃"
"My story, my rules. Loving every chapter. 📖❤️"
"In a world of likes, I choose to love myself first. 💕"
"Glowing from the inside out. That's the power of self-love. ✨"
"Being my own kind of beautiful. No edits needed. 🌸"
"Every day is a self-love kind of day. 🌈"
"Finding magic in self-love. Believe in your own sparkle. 🌟"
"Self-love isn't a trend; it's a lifestyle. 💖🌼"
TRY THESE: 100 SELF LOVE INSTAGRAM CAPTIONS FOR THE PERFECT POST
---
How to Use Self-Love Quotes as Affirmation?
Using self-love quotes can be a great way to boost your self-esteem, practice positive affirmations, and cultivate a healthy mindset. Here are some suggestions on how to effectively use self-love quotes:
Find quotes that resonate with you: Look for quotes that truly speak to you and reflect the aspects of self-love and self-acceptance you want to focus on. Choose quotes that inspire and empower you.
Create a collection: Compile your favorite self-love quotes into a collection. You can write them down in a journal, create a digital document, or even create an inspirational board or wall in your living space. Having them easily accessible will allow you to refer to them whenever needed.
Reflect and internalize: When you come across a self-love quote, take a moment to reflect on its meaning and how it relates to your own life. Consider why it resonates with you and how you can apply its message to your daily life. Internalize the quote's message and let it inspire positive change within you.
Repeat and affirm: Once you've chosen a self-love quote, repeat it to yourself regularly. This can be during your morning routine, before bed, or whenever you need a boost of confidence. Use the quote as an affirmation to remind yourself of your worth and capabilities.
Share and inspire: Self-love quotes can also be shared with others to spread positivity and inspire those around you. Share quotes on social media, in conversations, or even as gifts. By sharing the love, you can contribute to a more uplifting and supportive environment.
---
Remember, self-love is an ongoing practice. Using self-love quotes is just one way to reinforce positive thinking and cultivate a healthy relationship with yourself. It's important to integrate these quotes into your daily life and pair them with self-care practices, such as setting boundaries, engaging in hobbies you enjoy, and practicing self-compassion.
Self-love can be one of the most difficult things to achieve in life, but the benefits that you will reap from a positive self-image are endless. Your confidence and self-esteem will increase, allowing you to live your life to the fullest. You'll learn to say no to things that are harmful to you, and yes to the things that can benefit your well-being. Learn to love yourself today with these beautiful quotes!
RELATED POST: 55 LOVE YOUR BODY QUOTES: INSPIRING WORDS TO BOOST BODY POSITIVITY