Let's discover the world of chakras. The chakra system is a profound map of human consciousness that offers insights into our physical, emotional, and spiritual selves. In this post, we'll focus on one specific chakra – the solar plexus chakra – and how using solar plexus chakra journal prompts can lead to self-discovery and healing.
Unveiling the Solar Plexus Chakra
The solar plexus chakra, or Manipura as it's known in Sanskrit, sits in the area around your abdomen above your belly button. It radiates a vibrant yellow color, akin to the warmth of the sun. The element associated with this chakra is fire, which represents transformation and energy.
As your personal power center, the solar plexus chakra plays a vital role in defining who you are. It influences your self-confidence, determination, and the sense of control you have over your life. When it's balanced, you feel empowered, confident, and ready to take on whatever comes your way. On the other hand, an imbalanced solar plexus chakra can lead to feelings of powerlessness, low self-esteem, and indecisiveness.
RELATED POST: 70 JOURNAL PROMPTS FOR SELF-ESTEEM: JOURNALING YOUR WAY TO CONFIDENCE
Journaling for Solar Plexus Chakra Balance
Now, let's explore the transformative power of journaling. Journaling is a beautiful practice that can guide you on your path to self-discovery and healing. By putting pen to paper, you give voice to your inner thoughts, emotions, and experiences, creating space for understanding, growth, and healing.
When it comes to balancing your solar plexus chakra, journaling works wonders. It allows you to delve deeper into your personal power, giving you a platform to express your triumphs, fears, and dreams. You can identify patterns, release limiting beliefs, and strengthen your willpower, all contributing to a balanced solar plexus chakra.
In creating a chakra journaling routine, I recommend starting small. Try to set aside a few minutes each day to sit quietly, breathe deeply, and write in response to the solar plexus chakra journal prompts we'll explore in the next section.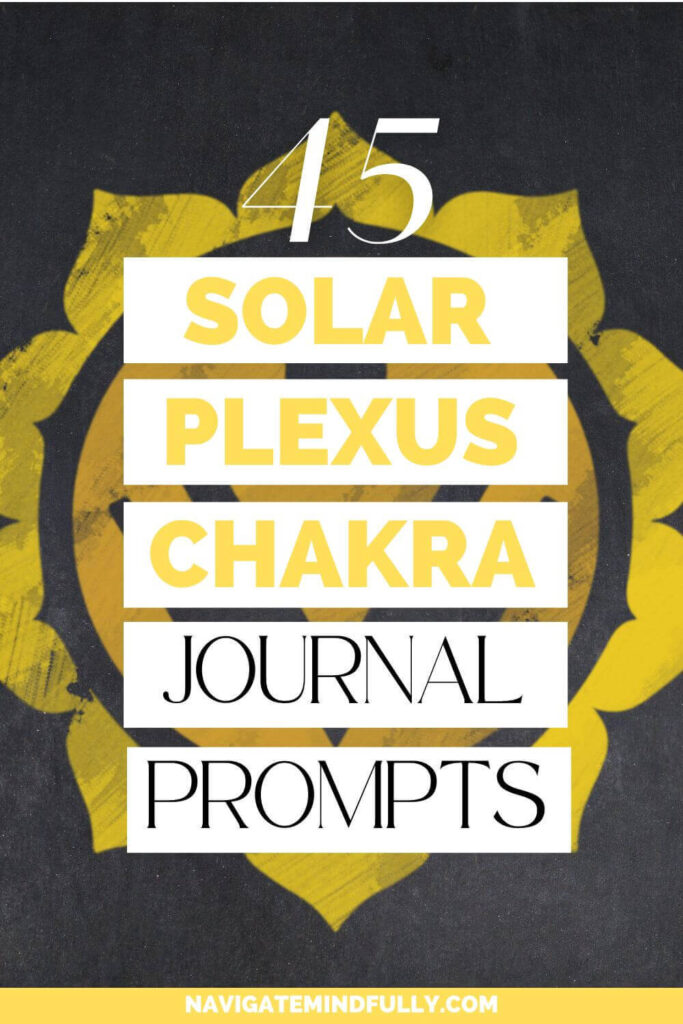 45 Solar Plexus Chakra Journal Prompts
What does personal power mean to you?
Reflect on a time you felt truly powerful. What were the circumstances?
How do you react when you feel powerless?
List five personal strengths you are proud of.
In which areas do you feel most confident?
Write about a time you stood up for yourself.
Are there situations where you feel your self-esteem could improve?
What are your personal boundaries and are they being respected?
How do you handle criticism?
Write a letter to your future self about your personal growth.
What are three accomplishments you're proud of?
Do you often feel the need to control situations? If so, why?
What limiting beliefs are holding you back?
List five affirmations to boost your confidence.
How do you respond when your plans don't work out?
Write about a time you overcame a challenge. How did it make you feel?
Describe what success looks like to you.
How do you typically handle conflicts or disagreements?
What are some steps you can take to improve your self-worth?
In what ways do you show yourself love and respect?
Reflect on a situation where you could have been more assertive.
How do you feel about making decisions? Is it easy or hard for you?
Write about your dreams and aspirations.
What are some habits or behaviors that drain your energy?
What fears are preventing you from achieving your goals?
How do you react when faced with a difficult situation?
What practices make you feel more centered and balanced?
How does it feel when you trust your gut instincts?
What are the negative self-talk phrases you commonly use? How can you turn them into positive affirmations?
How do you define your personal identity?
What qualities do you admire in others and would like to develop in yourself?
Write about a situation where you did not live up to your own expectations.
How do you feel about change and transformation?
What does courage mean to you? Write about a time you were courageous.
List three things you can do to strengthen your willpower.
Do you feel comfortable expressing your needs and wants? If not, why?
What are some ways you can take better care of yourself?
Write about a time you stepped out of your comfort zone.
What are your core values and how do they guide your actions?
How can you better honor and express your personal power?
Reflect on a time when you felt insecure. How did you handle it?
Write a thank you note to yourself for your strength and resilience.
How do you feel when you are the center of attention?
What actions can you take to feel more in control of your life?
Finish this sentence: I feel most powerful when…
Pin these solar plexus chakra journal prompts!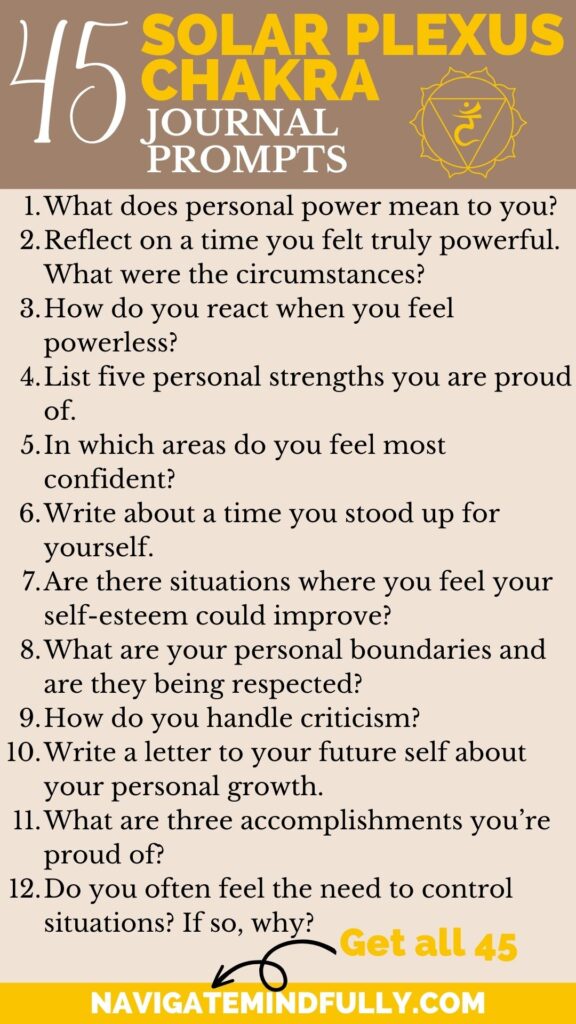 Additional Techniques Chakra Balance
Alongside journaling, there are other wonderful practices that can help you balance your solar plexus chakra. Incorporating these methods can supercharge your journey towards harnessing your personal power.
Firstly, let's talk about chakra meditation. Imagine a warm, glowing yellow light in your solar plexus region during your meditation sessions. As you breathe in, visualize this light growing brighter, and as you breathe out, envision any blockages or negative energy dissipating.
Yoga poses specifically designed to target the solar plexus chakra like the Warrior pose or Boat pose, can also be highly effective. They help build core strength and increase energy flow in the region.
Lastly, nutrition and aromatherapy play crucial roles as well. Consuming yellow foods like bananas, pineapples, and corn or using essential oils such as lemon and rosemary can stimulate and balance the solar plexus chakra.
Harnessing Your Power
You've journeyed through understanding the solar plexus chakra, the transformative power of journaling with these solar plexus chakra journal prompts, and other methods to balance this vital energy center. Remember, achieving a balanced chakra system is a journey, not a destination. Consistent practice and patience are your companions along this path.
Remember, every step you take is a step towards a more empowered, confident, and radiant you.
TRY THESE: 50 SOLAR PLEXUS CHAKRA AFFIRMATIONS FOR CONFIDENCE AND INNER STRENGTH
MORE JOURNAL PROMPTS FOR CHAKRA HEALING:
50 ROOT CHAKRA JOURNAL PROMPTS FOR HEALING
65 SACRAL CHAKRA JOURNAL PROMPTS
50 HEART CHAKRA JOURNAL PROMPTS
50 THROAT CHAKRA JOURNAL PROMPTS
45 THIRD EYE CHAKRA JOURNAL PROMPTS