Are you ready to embark on a journey to a more mindful, appreciative, and joy-filled life? You might be wondering how exactly to achieve this. The answer is a beautiful synergy of mindfulness and gratitude. Together, they serve as guiding stars leading us toward a rich, fulfilling life. To inspire this voyage, I've put together a collection of 65 mindfulness gratitude quotes, each a piece of wisdom to help you embrace mindfulness and express gratitude more profoundly.
These quotes aren't just strings of words; they're daily reminders, sparks of inspiration, and stepping stones toward a more balanced and fulfilling life. As we journey through these quotes, let's unravel the profound wisdom they hold, shaping our understanding of mindfulness and gratitude and their interconnection. So, are you ready to dive in and explore? Let's get started!
Deep Mindfulness Gratitude Quotes
"In the quiet sanctuary of mindful awareness, we recognize the preciousness of our ordinary life." – Unknown
"Mindfulness is the foundation of a joyful life. Gratitude is the celebration of it." – Unknown
"Gratitude unlocks the fullness of life. It turns what we have into enough, and more." – Melody Beattie
"Reflect upon your present blessings, of which every man has many – not on your past misfortunes, of which all men have some." – Charles Dickens
"Gratitude paints little smiley faces on everything it touches." – Richelle E. Goodrich
"With mindfulness, we can see that there is no place without the miracle of life." – Thich Nhat Hanh
"Acknowledging the good that you already have in your life is the foundation for all abundance." – Eckhart Tolle
"Let us be grateful to the people who make us happy; they are the charming gardeners who make our souls blossom." – Marcel Proust
"The greatest gift of life is the ability to think. What a privilege it is to be able to reason, to plan, to dream." – Unknown
"Wake at dawn with a winged heart and give thanks for another day of loving." – Kahlil Gibran
"Breathe. Let go. And remind yourself that this very moment is the only one you know you have for sure." – Oprah Winfrey
"Feeling gratitude and not expressing it is like wrapping a present and not giving it." – William Arthur Ward
"Gratitude doesn't change the scenery. It merely washes clean the glass you look through so you can clearly see the colors." – Richelle E. Goodrich
"In ordinary life, we hardly realize that we receive a great deal more than we give and that it is only with gratitude that life becomes rich." – Dietrich Bonhoeffer
"In the simple act of giving thanks, we ignite the light within us, revealing the world's beauty anew." – Unknown
"Being present in the moment, acknowledging the gift of life, leads to gratitude." – Unknown
"If we magnify blessings as much as we magnify disappointments, we would all be much happier." – John Wooden
"Gratitude is an antidote to negative emotions, a neutralizer of envy, hostility, worry, and irritation." – Sonja Lyubomirsky
"The real gift of gratitude is that the more grateful you are, the more present you become." – Robert Holden
"Gratitude helps you fall in love with the life you already have." – Unknown
"Gratitude is not only the greatest of virtues, but the parent of all the others." – Cicero
"The secret to having it all is knowing you already do." – Unknown
"Appreciate everything, even the ordinary; especially the ordinary." – Pema Chödrön
"Gratitude changes the pangs of memory into a tranquil joy." – Dietrich Bonhoeffer
"The joy of life comes from our encounters with new experiences, and hence there is no greater joy than to have an endlessly changing horizon." – Christopher McCandless
"Gratitude can transform common days into thanksgivings, turn routine jobs into joy, and change ordinary opportunities into blessings." – William Arthur Ward
"It is only with gratitude that life becomes rich." – Dietrich Bonhoeffer
"Piglet noticed that even though he had a Very Small Heart, it could hold a rather large amount of Gratitude." – A.A. Milne
"The roots of all goodness lie in the soil of appreciation for goodness." – Dalai Lama
"Let gratitude be the pillow upon which you kneel to say your nightly prayer." – Maya Angelou
"Gratitude makes sense of our past, brings peace for today, and creates a vision for tomorrow." – Melody Beattie
"There is a calmness to a life lived in gratitude, a quiet joy." – Ralph H. Blum
"Gratitude and attitude are not challenges; they are choices." – Robert Braathe
"When a new day begins, dare to smile gratefully." – Steve Maraboli
"No one who achieves success does so without acknowledging the help of others. The wise and confident acknowledge this help with gratitude." – Alfred North Whitehead
"Gratitude is the fairest blossom which springs from the soul." – Henry Ward Beecher
"Give thanks for a little and you will find a lot." – Hausa Proverb
"Gratitude is the sweetest thing in a seeker's life – in all human life. If there is gratitude in your heart, then there will be tremendous sweetness in your eyes." – Sri Chinmoy
"Mindfulness isn't difficult, we just need to remember to do it." – Sharon Salzberg
"When we focus on our gratitude, the tide of disappointment goes out and the tide of love rushes in." – Kristin Armstrong
"In this moment, there is plenty of time. In this moment, you are precisely as you should be." – Unknown
"Happiness cannot be traveled to, owned, earned, worn, or consumed. Happiness is the spiritual experience of living every minute with love, grace, and gratitude." – Denis Waitley
"Mindfulness isn't about getting anywhere else – it's about being where you are and knowing it." – Jon Kabat-Zinn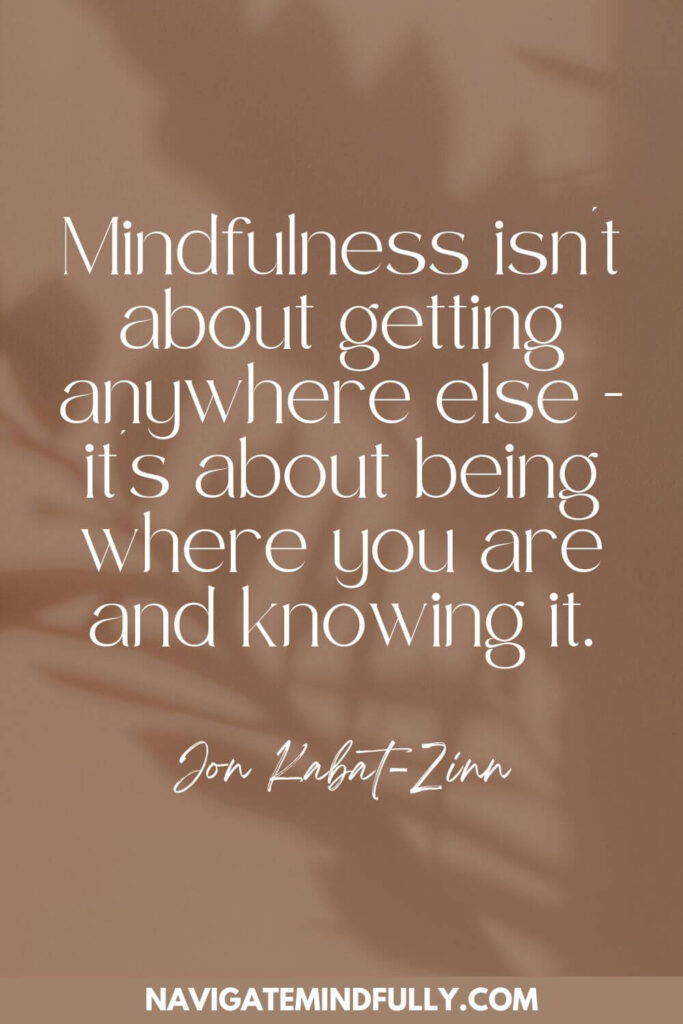 "When you are grateful, fear disappears and abundance appears." – Tony Robbins
"Every mindful breath, every seed of gratitude, nourishes our life and the world." – Thich Nhat Hanh
"Do not spoil what you have by desiring what you have not; remember that what you now have was once among the things you only hoped for." – Epicurus
"When eating fruit, remember the one who planted the tree." – Vietnamese Proverb
"Be grateful for the home you have, knowing that at this moment, all you have is all you need." – Sarah Ban Breathnach
"Remember the small things, for they are often the most important." – Unknown
"The more you praise and celebrate your life, the more there is in life to celebrate." – Oprah Winfrey
"Gratitude is the key that opens the door to instant happiness." – Unknown
"Gratitude turns what we have into enough, and more. It turns denial into acceptance, chaos into order, confusion into clarity… it makes sense of our past, brings peace for today, and creates a vision for tomorrow." – Melody Beattie
"It's not happiness that brings us gratitude. It's gratitude that brings us happiness." – Unknown
"The secret of health for both mind and body is not to mourn for the past, not to worry about the future, or not to anticipate troubles, but to live in the present moment wisely and earnestly." – Buddha
"Gratitude makes you feel not only happier but also healthier." – Robert Emmons
"We often take for granted the very things that most deserve our gratitude." – Cynthia Ozick
"Gratitude turns what we have into enough." – Unknown
"Gratitude is a powerful catalyst for happiness. It's the spark that lights a fire of joy in your soul." – Amy Collette
"When you realize there is nothing lacking, the whole world belongs to you." – Lao Tzu
"In life, one has a choice to take one of two paths: to wait for some special day–or to celebrate each special day." – Rasheed Ogunlaru
"Let us rise up and be thankful, for if we didn't learn a lot today, at least we learned a little." – Gautama Buddha
"Developing a mindfulness practice is a slow, sacred process. Every moment spent in gratitude and presence is a gift to ourselves and the world." – Unknown
"Gratitude and mindfulness are two sides of the same coin. When we're truly present in the moment, gratitude flows effortlessly." – Unknown
"Every breath we draw is a gift of life, every moment a unique jewel in the passage of time. Gratitude for the simplest things brings joy to the simplest of hearts." – Unknown
"Cultivate the habit of being grateful for every good thing that comes to you, and to give thanks continuously. And because all things have contributed to your advancement, you should include all things in your gratitude." – Ralph Waldo Emerson
How to Use These Mindfulness Gratitude Quotes?
Mindfulness gratitude quotes can be used in a variety of ways to inspire, remind, and guide you on your journey toward a more mindful and grateful life. Here are a few suggestions on how you can make the most of these quotes:
Daily Affirmations: Start your day by reading and reflecting on a mindfulness gratitude quote. Let it set the tone for your day, guiding your actions and thoughts toward mindfulness and gratitude.
Mindfulness Reminders: Keep these quotes in places where you'll see them regularly – on your fridge, desk, bathroom mirror, or even as a lockscreen on your phone or computer. Whenever you see them, take a moment to breathe, observe your current state of mind, and express gratitude.
Journal Prompts: Use the quotes as prompts for journaling. Write about what the quote means to you, how it applies to your life, and how it inspires you to be more mindful and grateful.
Meditation Mantras: Incorporate the quotes into your meditation practice. Begin or end your meditation session by silently repeating a quote to yourself, letting its message sink into your consciousness.
The Connection Between Mindfulness and Gratitude
Mindfulness and gratitude share a profound connection, each enhancing and deepening the practice of the other. Imagine them as two companions on the journey towards a more fulfilled, present life. Mindfulness, with its focus on being in the here and now, helps us notice and appreciate the richness of each moment. It uncovers the many 'gifts' around us that we often overlook in our busy lives – the beauty of a sunset, the laughter of a child, the comforting aroma of a cup of coffee.
Gratitude, in turn, is our heartfelt response to these moments of awareness. When we become mindful of the good in our lives, gratitude naturally arises. It's our way of acknowledging and appreciating the beauty, joy, and love that we encounter each day. As we nurture mindfulness, our capacity for gratitude grows. And as we express gratitude, we become more mindful. This beautiful synergy between mindfulness and gratitude fosters a virtuous cycle that leads us toward greater well-being, peace, and happiness.
I hope you got inspired by these mindfulness gratitude quotes and found the ones that resonate with you the most!
MORE QUOTES FOR YOU:
I AM ENOUGH QUOTES: BOOST YOUR CONFIDENCE AND SELF-LOVE!
BOOST YOUR MOOD WITH THESE 100 BE KIND TO YOURSELF QUOTES